The Climatic Research Unit is widely recognised as one of the world's leading institutions concerned with the study of natural and anthropogenic climate change.
The Unit consists of around 15 research scientists and students. We've developed a number of data sets that are widely used in climate research, including the global temperature record used to monitor the state of the climate system. We also provide statistical software packages and climate models.
50 Years of UEA's Climatic Research Unit
Our aims
We aim to improve scientific understanding in these areas:
How and why does our climate change – past, present and future – and what are the implications?
How can we quantify, reduce and communicate the uncertainty in the climate information that is developed for society?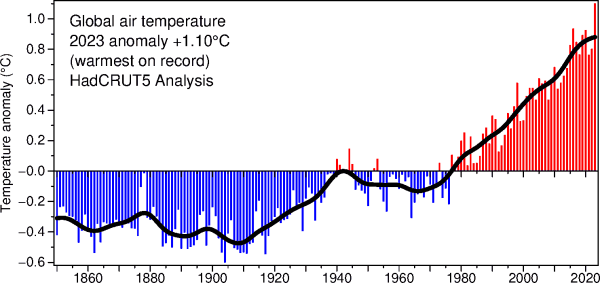 Global temperature record - updated February 2023
Our research
The Unit undertakes both pure and applied research, sponsored almost entirely by external contracts and grants from academic funding councils, government departments, intergovernmental agencies, charitable foundations, non-governmental organisations, commerce and industry.
Alongside its research activities, the Unit has an educational role through its contribution to formal teaching with the School of Environmental Sciences (most notably, the MSc in Climate Change) and various forms of in-service training including postgraduate education. It is regarded as an authoritative source of information on both the science and policy aspects of climate change by the media and maintains a high public profile.
The staff of the Unit have an enviable publication record, contributing to both peer-review and popular journals as well as editing various newsletters and bulletins.
The Climatic Research Unit is part of the School of Environmental Sciences with close links to other research groups within the department such as the Tyndall Centre. The Unit undertakes collaborative research with institutes throughout the world on a diverse range of topics and is coordinating or contributing to a number of networking activities.